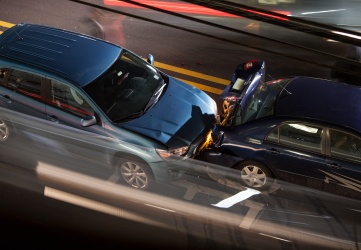 Seven Important Steps To Take After A Car Accident
We understand the pain, stress and frustration that can come after a car accident. In the moments and days following an auto accident, it is important to document the accident as much as possible to preserve evidence. This will make your claim easier to handle. If you are involved in a motor vehicle accident, we suggest you follow these seven important steps:
Get immediate medical attention. Call 911 and seek immediate medical attention if you think you may be injured. Many people do not feel pain or realize the extent of their injuries for hours, days or weeks after an accident. The longer you wait to get necessary treatment, the more an insurance company will dispute that treatment is accident related. This may cause problems in obtaining a fair recovery. It is better to err on the side of caution and get checked out by a healthcare professional. Getting the necessary medical treatment and ensuring that your healthcare providers thoroughly document your injuries should be your top priority.
Call the police. If you do not require immediate medical attention at the scene, you should still call 911. Make sure the officer prepares a detailed police report. Even if injuries appear to be only minor and the vehicles may be safe to drive, it is important that the accident be investigated by an officer. At the scene, the officer should provide you with an "accident exchange form," which will include the accident report number (to be finalized at a later date) and the other party's insurance information.
Exchange information. If the police do not arrive (such as when the accident occurs on private property such as in a retail parking lot), be sure to obtain the names and phone numbers of all persons involved including any witnesses. Be sure to get the insurance information from the other driver or drivers involved in the accident. However, even if the accident is minor and occurred on private property, the police must be called if intoxication is a factor.
Take photographs. Almost everyone has a smartphone or cell phone that is equipped to take pictures. If safe to do so, it is important to take photographs of the damage to all the vehicles involved and to take pictures of the scene. You should also take pictures of your injuries including any cuts and bruises. Make sure you remember to show these photographs to an attorney who is evaluating your claim.
Do not admit fault. It is important to not apologize or admit fault at the scene of the accident. It is recommended that you discuss what happened to the officer who arrives at the scene without taking blame. You will also need to report the accident to your own insurance carrier. Your policy most likely requires that you report the accident within a certain time frame following the accident. However, it is suggested that you do not discuss or give a recorded statement about the details of the accident or your injuries to any insurance adjuster until after you speak to an experienced attorney.
Seek medical treatment. If you did not seek treatment at the scene or immediately thereafter, it is important that you get checked out by a medical professional and have them document your accident, injuries and course of treatment. This is not only important for your claim but for your own safety and well-being. Many times people will delay getting proper treatment because they do not have health insurance. Under such circumstances, we can help you find appropriate treatment providers who may agree to postpone being paid until after you have obtained a recovery.
Seek legal advice. Before giving a statement to the other driver's insurance company, or signing any documents, speak with an experienced accident injury lawyer. Do not accept quick settlement offers with artificial deadlines made by an insurance adjuster as they are likely not going to be in your best interest.
We Are Standing By To Help You!
Geisheimer Law, PLLC has been helping injured car accident victims just like you defend their rights. Contact our office today for a free and confidential consultation. There are no fees or costs unless we win or settle your case.